Phonics
Phonics is recommended as the first strategy that children should be taught in helping them learn to read. At Stanstead, we want to give children a real love of reading for life so phonics runs alongside other teaching methods to help children develop vital reading skills.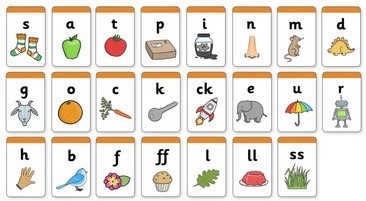 In phonics lessons, children are taught three main things:
1. GPCs (grapheme phoneme correspondences)
GPCs simply means that children are taught all the phonemes (sounds) in the English language and ways of writing them down (graphemes).
2. Blending
Children are taught to blend sounds together by merging the individual sounds together until they can hear what the word is. This is a vital reading skill
3. Segmenting
Segmenting is the opposite of blending! Children are able to say a word and then break it up into the phonemes (sounds) that make it up. This is a vital spelling skill.
Why is our language so tricky?
The English language is very complicated! England has been invaded so many times throughout its history and each set of invaders brought new words and new sounds with them. As a result, English only has around 44 phonemes but there are around 120 graphemes or ways of writing down those 44 phonemes. Plus, we only have 26 letters in the alphabet so some graphemes are made up from more than one letter.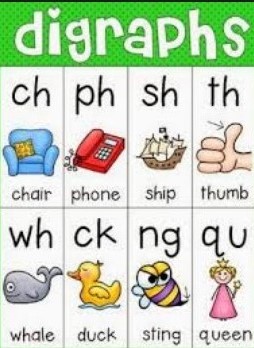 These are example of digraphs- graphemes with two letters.

There are other graphemes that are trigraphs (made up of three letters) and a very few made from 4 letters.
Some graphemes can represent more than one phoneme, ie, ch can make different sounds, chip, school, chef
Learning to read is like cracking a code so teaching phonics is a way of teaching children to crack the code. It is so important that we teach phonics clearly and systematically, learning easier bits first and then progressing to trickier bits!
Here is a link showing you how to pronounce each phoneme so you can support your child at home.
In Foundation Stages (1 and 2) and Key Stage One, all children enjoy a daily phonics session that is based around the Letters and Sounds Scheme.
We also incorporate Jolly Phonics actions that can be viewed here.
Nursery
In Nursery, we focus on Phase 1 of Letters and Sounds. Phase 1 concentrates on developing children's speaking and listening skills and lays the foundations for the phonic work which starts in Phase 2. The emphasis during Phase 1 is to get children attuned to the sounds around them and ready to begin developing oral blending and segmenting skills.
We also have a Sound of the Week to begin looking at recognising sounds and letter formation. Click here.
Reception
In Reception, children will begin to be taught Phase 2, alongside continuing to develop Phase 1 speaking and listening skills during interactions. Through fun and engaging activities, children will learn all the Phase 2 and 3 phonemes by the end of Foundation stage.
Year 1
In Year 1, daily teaching of phonics continues. We will recap all Phase 2 and 3 phonemes to ensure these are embedded with the children. The children will move on to learning Phase 4 and 5 by the end of Year 1. In Year 1, the children undergo a statutory Phonics Screening Check to assess their phonics knowledge. This is a simple check performed 1:1 with the teacher where the children read 40 words containing the phonemes they have been taught. For further information about the Phonics Screening Check, please these the information guide for parents at the bottom of the page.
Year 2
In Year 2, we recap all of our phonics learning so far and continue to support those children who may not have met the necessary standard in the phonics screening check in Year 1. We then move on to Phase 6, where the main aim is for children to become more fluent readers and more accurate spellers.
Once children have progressed through Letters and Sounds, they then continue to develop their spelling strategies and rules according to the spelling expectations outlined in the English National Curriculum.
Early reading
Children are encouraged to read for enjoyment both at home and school. In Nursery, we read a range of story books with the children, mixed with beginning to look at Lilac band books. These are picture books without words to encourage storytelling skills in the children. The children then progress through the book bands at their own pace throughout Foundation stage and KS1.